So I wanted to get to 8000 words at Nano but this is not the day and since I'm sick et all editing is never that bad. I originally wrote this for
elliotsmelliot
at the fic or treat post last day, but it fit for a couple of things I wanted to do so why not?</lj> I improved it though ;) every possible warming is in the fact that this is a Lost/PD crossover anyway.
Title
: What If You Didn't Have To Be Dead?
Characters/Pairing
: Jack/Boone, Ned, Ned/Chuck
Rating
: PG13
Disclaimer
: Yeah, this happened. Really. Ned was on the plane. Really. Come on, I mean, of course it's not mine.
Word count
: 2370
Spoilers
: S1 for Lost, the pilot for Pushing Daisies.
Summary
:
But among the other forty-eight survivors, there was one who had pretty much kept to himself all of the time from the crash for a good reason, but who couldn't just ignore such a heartbreaking situation. The young man in question was called Ned, he baked pies for a living and could bring back dead people to life with a simple touch.
A/N
: Pushing Daisies crossover; using for
un_love_you
15, this is my desperation in action (though veery loosely). Won first place at
lostfichallenge
82, canon rewrite. Seriously, what did you think I was going to right if not my man and my ship? ;) and uhm, I didn't spare myself any happy. Nominated for Best Humorous Fic at
lost_fic_awards
, October 2008.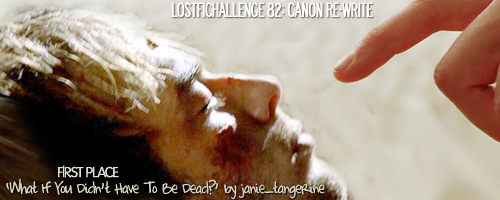 Boone Carlyle was twenty-two years, seven months, one day, two hours and six minutes old when he died. The cause of his death were the injuries he sustained after falling from a beechcraft located on the lost island in the South Pacific where he had crashed one month, a week and one day earlier along with other forty-eight people.

It was not a quick death nor a painless one. It wasn't quick because about five hours passed since his fall and the moment in which he exhaled his last breath; it wasn't a painless one because he had to endure many sufferances, starting from a collapsed lung and ending with internal bleeding and a crushed leg. Sure, Jack Shephard, the only doctor among all of the survivors, who was thirty-seven years, five months, two days, three hours and forty-two minutes old in that specific moment, had given him a choice (that implied amputating his leg); but Boone had realized his time was over and pledged Jack to let him go then, even though only he knew how difficult of a choice it was.

He died exactly two minutes and fifty-two second after, but not without any regret, since his last words died on his lips before his sentence was over.

The facts were these: for a while, Boone had been in love with his beautiful step-sister Shannon and this business also ended up in a one-night stand that wasn't healthy for their relationship under any mean and ended up being unpleasant for the both of them. Well, he wouldn't have ever given to his temptation, hadn't she pushed it after he found out she had been conning him. But anyway, it had been wrong on both parts and only in those last days Boone had sort of got over it.

He had got over it after all; but just as he lay dying, he felt the overwhelming need to tell her that he still cared for her and always would have. But Shannon wasn't there and so Boone decided to tell Jack so that he could pass her the word. But there came the second problem, because one of the reasons he was over Shannon was that he had grown a crush of epic proportions on Jack. Maybe more than a simple crush, actually; he wouldn't have known how to describe it himself. He was only sure that his feelings, even if he still didn't know where they belonged, were growing bigger each passing day and while he knew that they weren't ever going to be possibly returned, he had wished to tell him that, too, before going. Sadly, he couldn't tell Jack either thing.

--

The burial was set for the day following his death and pretty much everyone could see Shannon, who was twenty years, one month, three weeks, sixteen days, fifty minutes and two seconds old when Jack told her the news, crying helplessly in the middle of the beach, as everyone could hear Jack telling her he was sorry he couldn't report Boone's non existant last words, even though he had clearly meant them for her. Of course, he couldn't have imagined that Boone's real last words were meant for him.

But among the other forty-eight survivors, there was one who had pretty much kept to himself all of the time from the crash for a good reason, but who couldn't just ignore such a heartbreaking situation.

The young man in question was called Ned, he baked pies for a living and could bring back dead people to life with a simple touch.

--

The facts were these: Ned had discovered his gift when he was very young, firstly when he revived his golden retriever, Digby, after he was hit by a truck. Then, he revived his mother, who had suddenly fallen dead as she baked a pie. But he had soon found out that his gift had a side effect: whoever he brought back to life would die again if Ned touched him or her a second time. Also, if Ned didn't put things back in their place in one minute, something or someone else was going to die instead.

He learned this the hard way on his own skin when he revived his mother and the father of his childhood sweetheart, Charlotte 'Chuck' Charles, who lived in front of the street, died exactly a minute later. His mother? Well, she died as second and final time time as she kissed him goodnight that very same evening.

Ned then grew up to be a piemaker in remembrance of his mother and had opened his own shop, the Piehole; but he also was an assistant to a private investigator, named Emerson Cod, who had discovered his secret and offered him a deal. They were to revive for a minute victim murders in order to have them telling who was their killer; then they split the reward in two.

It was in such an occasion that Ned found out that Chuck was killed during a cruise; he showed up at her vigil along with Emerson and there he just couldn't bring himself to kill her a second time. He brought her back to life, even though he knew he could never touch her again. She had been living with him at his pie shop since and even though they couldn't touch each other, Ned's life had just taken a turn for the better and he couldn't imagine to be without her ever again.

Ned was on the plane to Los Angeles because he had needed to go to Australia in order to help Emerson for a case overseas, while Chuck had stayed at home. Emerson had gone back a few days before Ned did; Los Angeles was just a stop in order to get back to his town, to Chuck and to his pie shop. But then the crash happened and now he was stuck on that island and couldn't even bear to think about how Chuck was feeling at home.

--

This was why, when he heard about Boone's last unspoken words, deeply moved by the sadness of such a story, he spoke to Jack and Shannon privately and illustrated them the situation. Surely a minute was going to be enough for Boone to say what he needed to say, and Shannon could have been there, too.

Both of them looked actually distrustful, but when Ned showed them that he wasn't joking nor was crazy touching a couple of rotten mangoes, they headed to the cave where the body was lying.

Ned suddenly remembered that young man; he had spoken with him once or twice, even though he hadn't caught the name. He had always been nice to him and Ned suddenly felt an incredible sadness taking hold of him; he looked at Shannon and Jack's faces, figuring that Chuck, his waitress Olive Snook and maybe Emerson were feeling more or less the same way, in that very same moment.

He shook his head and took a look at his watch, then touched Boone's shoulder; the young man's enormous, deep blue eyes shot open. He coughed for a couple of seconds and Ned ignored the shocked look on Jack and Shannon's faces.

"Boone? Do you recognize me?"

"Aren't you are the guy who bakes pies from down in the beach..."

"Yes, yes, that exactly. And I can also bring dead people back to life for a minute and I know you had something to say before you died, so.. you have exactly fifty seconds now."

Boone looked shocked for a second, but then saw Jack and Shannon near Ned and nodded, taking a deep breath.

"Oh, fuck. Okay. Okay. Shannon? Shan? Please, just don't cry now, okay? I just... I didn't mean anything I said at the waterfalls that time. I really... I love you, Shan. Just... we were wrong. I'm... I'm sorry. I'm sorry it had to go this way."

She nodded, copious tears falling from her eyes, as Ned looked at his clock; thirty-five seconds now.

"And... Jack? I wanted to... to tell you something, too... though maybe I shouldn't..."

Jack shook his head and told him to go ahead.

"Well... it's just that... oh, God, Jack, I've just... for a while... the pens probably... I... I like you. Quite... quite much. No, scratch it, like wouldn't exactly cover it and... oh, I should probably shut up, I'm sorry, I'm just..."

The time left was barely twenty seconds and Boone had thus brokenly declared his feelings; but it took one look at Jack's face for Ned to see that they were indeed reciprocated and as Jack's hand had lightly taken Boone's as it shook and Boone's eyes seemed to become even bigger as realization dawned on him, Ned realized that he just couldn't touch that poor young man again.

So he took the decision, praying that a boar was passing by. It looked to be an island full of boars.

"Jack, Shannon, run out!"

"What...?"

"Run, now! And as far away as you can!"

Shannon seemed stuck, not to mention shocked, but Jack, who had sensed that Ned had something on his mind, took her wrist and dragged her out; barely five seconds were missing now.

"What...?" Boone asked shaking his head.

"I'm not killing you again. I just... I can't. I can't. But if I don't, something else has to die and I can't risk either of them. Pray that there's some boar near here and-"

Then the minute was over and suddenly the earth shook wildly; a creepy and scary noise was heard from outside as some stones crashed over the ground from the ceiling of the cave.

For ten seconds Ned thought that the cave was going to crash above them; but then, after two or three other tremors, when it seemed like it was over, some thin layers of thick, gray smoke filled the cave up before disappearing completely.

"What... what was that?" Boone asked, incredulous, his breath fast and his cheeks flushed.

"I... I don't know? Maybe... you know that line of smoke we saw once in a while far on the other side of this island?"

"Woah. That? Man, it was alive?"

"I... I don't have an idea. But well, there it is."

"You mean I'm... oh, thank you, thank you so much-"

Ned flinched away as Boone extended his hand.

"Sorry. I mean, you're welcome but you can't touch me. Ever. I'd kill you again."

"Oh. Okay. Well, thanks, man. I... I owe you something?"

"Don't mention it."

No one ever took notice of the two bodies lying over the ground, in the thick jungle vegetation; a woman and a man, both with very pretty looks but with an expression on their face that resembled indeed a good deal of vacuity. No one ever took notice of their disappearance anyway, if not for a science high school teacher named Arzt who spent the subsequent month complaining about a certain Nikki going missing. And every time James Sawyer Ford, resident island con man and always the most direct inhabitant of the beach camp, thirty five years, four months, two weeks, six days, one hour and three minutes old the first time he answered Arzt's plea, without fail remarked: 'And who the hell is Nikki?'.

--

Boone Carlyle was twenty-two years, seven months, three weeks, four days, seven hours and eight minutes old as rescue came to the island; he wished that Shannon hadn't come to tell him as he and Jack were kind of busy in some kind of extremely pleasurable activities.

When he had tried to stand up again the leg had more or less stood along with him and while he had his scars, he could walk; he felt fine, all things considered. He boarded the ship with Jack's arm supporting his waist.

One day, though, he went searching for Ned as he leaned against the railing of the ship.

"Hello."

"Hi yourself. Is... uhm, everything alright?"

"Yeah. Couldn't be better, actually. Listen... it's not that I'm not thankful for what you did, because really, I... I owe you more than I could ever owe anyone in this life and the next twenty I'll get, but can I ask you a question?"

"Sure."

"Why did you do it? Not reviving me then... not killing me after."

"I... my girlfriend. She's like you."

"What?"

"I... I hadn't seen her for ages. Then I found out she was dead and... well, I had meant to revive her only for a minute but I felt so... so desperate in that moment that I just couldn't bear to lose her again. Especially since she remembered me and everything. I just... I could see her in you. I just couldn't. She didn't have to be dead. Neither did you."

Boone nodded, his expression serious.

"So... you can't touch?"

"We can't."

"God."

"Well, it isn't... that bad. We... we manage fine. And we love each other. Enough, right?"

A small smile turned Boone's lips upwards.

"Yeah. Yeah, I figure it is."

--

As they reached Los Angeles, they both left; Jack shook's Ned's hand two times and Ned figured he wouldn't forget for a while how happy they seemed with each other as they walked the corridor to the airport's exit and Jack's hand never leaving Boone's hip.

Emerson appeared to meet him just as they were out of sight; with him, came both his waitress Olive, who kind of threw herself at the pie-maker clinging for some good five minutes (and Ned kind of clung back with as much strength, since he hadn't realized how much he had really missed her), and Chuck, who just stood near, holding her own hands behind her back while tears of happiness streamed down her face. Ned could feel some of his own coming to life, too; but then he had a flash of Jack and Boone walking out of the airport (not to mention the passionate kissing activities they were engaged in on the island a week after the accident or so) and he figured that it wouldn't have been that wrong if he thought they were doing it for him and Chuck, too, as he smiled warmly at her and she smiled back at him.

End.


feeling:
cranky