1. Holycrap one hour ago there was another earthquake peripheral shake. Fuuuck. Over there it mustn't have been pretty. Not-at-all. *sigh*
2. Tomorrow evening I'm going to my dad's family for the Easter holidays. I'll be back on Monday but I'm bringing the laptop and there will be Internet there if things haven't changed since Christmas so no hiatus.
3. I think I might have fic later or tomorrow morning. Which is good because I really needed to finish some-fucking-thing.
4. Memes! First one, handwriting meme tagged by
neated
:
1. write your username.
2. write your two favorite bands/groups of the moment.
3. write something you ♥//aka - lemme see your heart.
4. write the name of your favorite person of all time.
5. write the name of your recent favorite person.
6. tag 6 people to do this meme.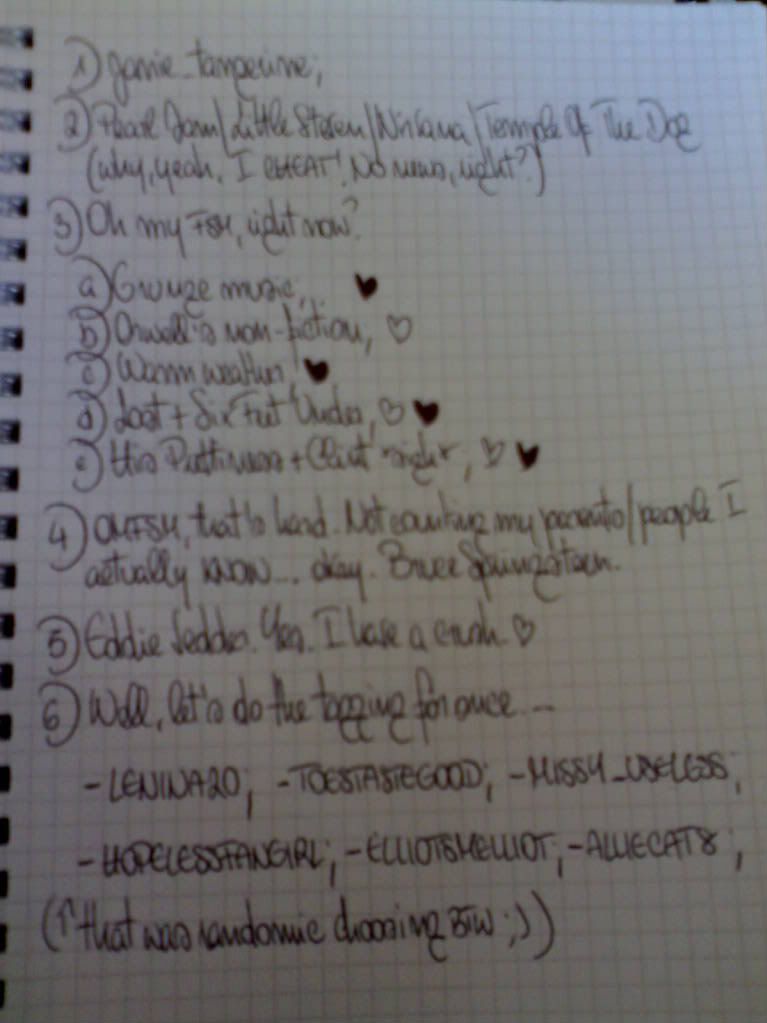 I just hope it's readable.
5. Icon meme from
hopelessfangirl
:
1. Reply to this post, and I will pick six of your icons.
2. Make a post (including the meme info) and talk about the icons I chose.
3. Other people can then comment to you and make their own posts.
4. This will create a never-ending cycle of icon glee.
1)
made by me
Ha. This is one of my overall favorites. It's kind of my very-angry icon but also my Clint > you icon which is always a good thing to have. It's from Gran Torino and I did it when I saw that clip in the trailer because seriously, I needed an icon with Clint saying GET OFF MY LAWN. Just hear how he says it. It was too awesome not to icon it. ♥
2)
made by
fromperdition
This be my Dean/Cas icon. I love them together, both platonically and slashing (because I need to take my slash from whenever I get it and hey, it's a good pairing). I think they have great chemistry and they make such an intriguing ship. Also, this icon is SO FREAKING PRETTY. The composition is great, it's PINK too and the text is so fitting for them.
3)
made by
aliasledger
Well, this icon only speaks the truth. ;) I love Hurley seriously, I love him in that scene and the text just spoke the obvious, which is, he's awesome. Also, the coloring is so great. It's such a nice icon, I love it.
4)
I dunno who made it! But I really wish I did.
LOL, I every time I do this meme this icon gets picked. Which should only testify in favor of its utter awesomeness. I could
never
delete it and I just wish I knew who made it to worship them properly because really, it's genius. I'm kinda sorry that I don't have a serious Michael icon but this one just cracks the hell out of me. Just LOOK at it! The whole Finding Nemo link is
priceless
, the blending is awesome and I just love it to death. Not to mention, sums Mike and Walt perfectly. It also makes me want to write a Finding Nemo Lost AU, but turning them into fishes is too much even for me.
(even if Sawyer would be perfect for that fish who wants to escape from the dentists' aquarium. -nod-)
5)
made by me
Another one I could never part with. Because seriously. Boone + ropes = OTP OF DOOM. That scene makes me want to do things to him which are so NC17 rated. And makes me want to fill the hole in my Boone/whoever fics since it lacks the necessary bondage one. Anyway, I needed an icon of that scene and I think the text summarizes perfectly my feelings on the matter.
6)
made by
moustacherider
Okay, this fulfills two very important needs: first, I need a philosophy icon since it's what I study and then I needed an anti Twilight icon because I can't stand that thing anymore. Nor Robert Pattinson's face, and vampires DO NOT SPARKLE. That said, this one was in a bunch of similar icons where the quotes were from other famous people but this one was just perfect because it works perfectly also regarding the philosophical side of it. Also, while he might be a complete bitch sometimes, I kinda dig Kant but if I didn't then I wouldn't do what I do and this one was kinda too hilarious not to have it. But that post was awesome, there was Yoda and Jesus and a lot of other cool ones.
7. I've finished watching S2 of Six Feet Under. And before I forget it: ARZT WAS IN THE FINALE. As a guy dealing with sex addiction. I think I wanted to die from cracking up.
Okay, I think I realized why this show is awesome. Because I practically like everyone out of the main cast. Okay, I don't exactly
like
Ruth but she's an awesome character and the actress is terrific so I'm just fine with her even if we're not on the same wave-length at all. That said, randomic thoughts...
Since David came out he became my hero. Seriously, in S1 I wasn't that invested but I had began to warm up to him towards the end and now? OMG, how precious is he? He's just so great. And so precious. I've already said it but there wasn't an episode where I didn't want to squish the hell out of him. Also, how freaking good Michael C. Hall is? I think I might want to watch Dexter next season. Because he's just too good for words. And I absolutely love how his relationship with Nate is developing and how he's dealing with his coming out and just... I think I'd want to marry him if he wasn't gay. What a pity.
Since we were talking about David, I was mighty glad to see that him and Keith were back together but uhm, Keith, anger issues? Maybe? I loved that whole storyline with his nephew but I hope they take it back sometime in the following seasons because seriously, if it ends like that then it'd suck. Also, I'm killing myself to realize where I have already seen his parents. Anyway, still great character all-the-way.
I think I also have a crush on Nate. Well, I kinda had it since S1 but I just dig the character all the way. As I said I dig practically everyone but IDK, there's something about him which just makes me invested. I'm loving how they wrote him this season. The whole storyline he had was incredible and argh, I think I'm not liking how the whole Nate/Brenda thing went because I dig the pairing a lot but whatever, something tells me they'll get back together sometime. Lisa is okay but Brenda is way more interesting.
Claire is just great. Yeah, I sound like a broken record, but I just can relate. She kind of dresses like I do actually, except that I'm more pink and I wear band t-shirts. She's interesting, she's also close to my age (ha, yes, I relate) even if she's way cooler than I ever will be and I can't wait to see what's in store for her.
Also, Brenda's mom -> worst mom ever seen in a TV show. True fact. I'm also liking Rico a lot even if the homophobia is not really good. Overcome it, Rico. Overcome it.
I think my favorite episode was the Christmas one. The whole thing with the biker's funeral was incredibly touching and well thought, the widow was just too awesome and hey, I'd want a funeral with Lynyrd Skynyrd full volume too. And I just loved everyone and everything in there, it was so perfect. And also, Nathaniel Fisher senior is made of seriously winning material. Now I don't know when I'm going to watch S3 because I don't have the dvds and when I'm on Easter break I'll catch up with The Wire and Kings if I can but uhm, the finale? EVIL. That was evil. But this show? It's so-fucking-good. It's so really fucking good and I'm only sorry that it's over already because I know I'll miss it when I'm caught up. *sniffs* It's just so good. Yes, I know I'm not being original but I just love it and I want to marry everyone. True fact.
I need a SFU icon, in short.
8. All for now, also because this entry already is too long. *waves*
feeling:
anxious