Okay, so, first exam gone, next one is not until the next ten days and I catch up with stuff. This is for the OTP challenge at
lockes
, because I'm everything but original. Maybe I'll come up with a Desmond/Sayid one too but that one's very, very up in the air. So get the OTP for now. ;)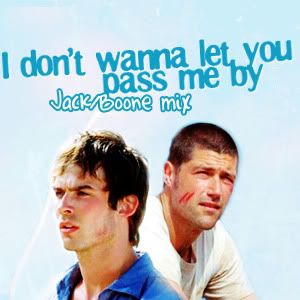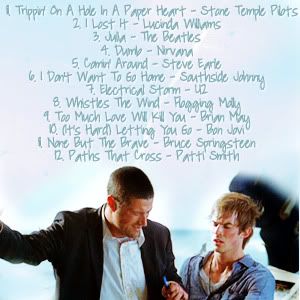 1.
Trippin' On A Hole In A Paper Heart - Stone Temple Pilots
Don't cut out my paper heart, I ain't dyin' anyway
Take a look at an eye full towers
Never trust them dirty liars [..]

Keep it on, just a whisper I'll be gone
Take a breath and make it big
It's the last you'll ever get
Break your neck with diamond noose
It's the last you'll ever choose

I am I am I said I'm not myself, but I'm not dead and I'm not for sale
Hold me closer, closer let me go let me be just let me be
2.
I Lost It - Lucinda Williams
Give me some time give me some stuff
Give me a sign give me some kind of reason
Are you heavy enough to make me stay
I feel like I might blow away [..]

Everything's paid for nothing free
If I give my heart, will you promise not to break it
I think I lost it, let me know if you come across it
Let me know if I let it fall along a back road somewhere
3.
Julia - The Beatles
Half of what I say is meaningless
But I say it just to reach you
4.
Dumb - Nirvana
Skin the sun
Fall asleep
Wish away
The soul is cheap
Lesson learned
Wish me luck
Soothe the burn
Wake me up
5.
Comin' Around - Steve Earle
(and Emmylou Harris)
My heart's a little ragged but it's all that I got
So I'm gonna give it a try
Look out world I'm comin' ready or not
I don't wanna let you pass me by
Here I go maybe I'm comin' around
I'm a little bit slow but maybe I'm comin' around
Finally layin' my burden down
6.
I Don't Want To Go Home - Southside Johnny and the Asbury Jukes
Listen, baby, I know we had to try
To reach up and touch the sky, baby
Whatever happened to you and I
That I don't want to go home?
7.
Electrical Storm - U2
You're in my mind all of the time
I know that's not enough
If the sky can crack, there must be some way back
For love and only love
8.
Whistles The Wind - Flogging Molly
Can winners be losers running on the same track?
Some head for glory, others refresh

Well it breaks my heart to see you this way
The beauty in life, where's it gone?
And somebody told me, you were doing okay
Somehow I guess they were wrong
9.
Too Much Love Will Kill You - Brian May
Oh, I feel like no-one ever told the truth to me
About growing up and what a struggle it would be
In my tangled state of mind
I've been looking back to find where I went wrong [...]

Too much love will kill you
Just as sure as none at all
It'll drain the power that's in you
Make you plead and scream and crawl
And the pain will make you crazy
You're the victim of your crime
Too much love will kill you every time
10.
(It's Hard) Letting You Go - Bon Jovi
Now some tarot card shark said I'll draw you a heart
And we'll find you somebody else new
But I've made my last trip to those carnival lips
When I bet all that I had on you

It's hard, it's hard, it's hard, so hard
It's hard letting you go
It's hard, so hard, it's tearing out my heart
But it's hard letting you go
11.
None But The Brave - Bruce Springsteen
In my dreams these nights I see you my friend
The way you looked back then
On a night like this
I know that girl no longer exists
Except for a moment in some stranger's eyes
Or in the nameless girls in cars rushing by
That's where I find you tonight
And in my heart you still survive

None baby but the brave
No one baby but the brave
Those strong enough to save
Something from the love they gave
12.
Paths That Cross - Patti Smith
Speak to me, speak to me shadow
I spin from the wheel, nothing at all
Save the need, the need to weave
A silk of souls that whisper whisper
A silk of souls that whispers to me

Speak to me heart all things renew
Hearts will mend round the bend
Paths that cross, will cross again
Paths that cross will cross again
full zip here
feeling:
listless
on rotation: a day in the life - beatles