1. First of all, HAPPY BIRTHDAY to one of my favorite people around here aka
toestastegood
! ♥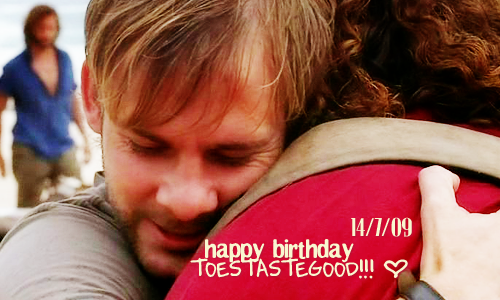 I hope you have the best possible day and the best year ahead! ♥ And well, I hope I don't end up AS late as last year because that was seriously LATE, but if you want to prompt me with anything I'll be more than glad to comply sometime after the luau is over. ♥ Happy birthday again. ♥ ♥ ♥
2. Mm, okay. So. Hi! First real entry in a while, blame the luau for that. (And I'm behind on reading, daammmiit.) Everyone is doing alright? ;)
3. Okay, on to the first point of this post, tomorrow
pnr
is flying down here (\o/) and on Friday
lasamy
is coming too, and we'll all be awesome and go to see Bruce Springsteen together on the 19th. ♥ Sooo, I'll probably be scarcer around here until the 24th or so, but I guess I'll have posts and the Bruce review and I'll check the e-mail/comments and everything, so I shouldn't be
too
scarce. I dunno if I'll manage to crank up something for the luau in this time but I'll bookmark and stuff and then I'll just catch up later. ;)
4. That said, I seriously need to spend at least good part of this afternoon starting with the Secret Angels fic for the exchange at
deancastiel
. Thankfully I have 75% of it plotted out, but I'd really like to have some of it written already before the 24th.
4b.
Related to that, I had a Supernatural mini S1 marathon yesterday (not saying why specifically because hey, secret ;) ) and Christ. That show did some seamless character development really because while watching S1 after S4 was a complete 180° turn in characterization, it seemed so natural of a progress really. Also, dear Darlton, don't say you knew already how Lost was going to end.
They
(or better, Kripke) knew and it
shows
(I'm referring to Mary telling Sam that she's sorry in
Home
, and considering that we only found out why in S4 it's clear that they knew the backstory already). You didn't, and it shows. And anyway, I want more Ghostfacers next season. They're too awesome. Also, Dead In The Water still is one of my faves ever. ♥ And uh, ah, yeah, I miss John Winchester. A
lot
.
5. Okay, I'll be off buying groceries, calling my friend who should give me a lift to the airport tomorrow, writing some crack for the luau today and then starting that exchange fic. Maybe I'll even manage to read the newspaper in the midst of all this, lol. *waves*
feeling:
rushed