*CAPSLOCK IS OBLIGATORY*
OKAY. LOOK WHO WE MANAGED TO SEE TODAY AND WHO WINKED AT ME AND ACTUALLY SMILED TOO AND I ACTUALLY MANAGED TO TAKE ONE PICTURE THAT DIDN'T SUCK ASS. AT THE E-STREET'S HOTEL WHERE ME,
lasamy
and
pnr
ENDED ABSOLUTELY BY CHANCE (after re-watching, me at least, The Boat That Rocked which is still the most fucking awesome movie I've watched this year which didn't have anything to do with Clint Eastwood). OMG OMG *FLAILS* AND THEY ACTUALLY MANAGED TO CATCH STEVE VAN ZANDT TOO AND NILS TOO (*HEADDESK*) WHILE I WAS TOO BUSY BEING IN A MOB AND TRYING TO HOIST MYSELF ON AN HOTEL WINDOW WITHOUT FALLING OFF (ACTUALLY MY HAND IS STILL TREMBLING ON AUTOMATIC BUT IT WAS TOTALLY WORTH THAT BTW).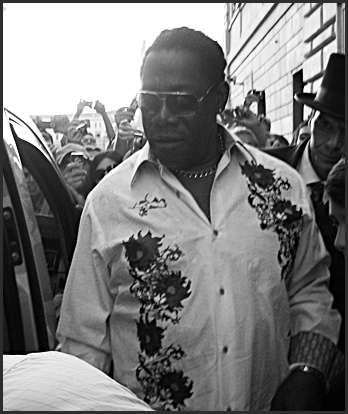 OMG CLARENCE FUCKING CLEMONS YESYESYESYES *dies* AND IF YOU DON'T KNOW WHO HE IS EITHER YOU SKIP MY BRUCE POSTS OR YOU NEED TO GOOGLE HIM. WHATEVER, HE'S STILL AWESOME. OH DEAR. HE WAS LIKE THIRTY CMS FROM ME. OHHHHDEEEEAAAAAAAARRRRRRRRR. *flails*
(and btw, I actually bonded with a very cute seven-year old or something who was trying to hoist himself on the same window as me and was a total Bruce fanatic. Me and kids bonding = MIRACLE. Just Bruce, seriously.)
WHATEVER. OMGI'MSOEXCITEDFORTOMORROW AND I'LL JUST GO FLAILING AND LET
lasamy
and
pnr
POST THIS TOO, OR AT LEAST ONE OF THEM, OR HOWEVER IT ENDS UP. OMFSM.
(sorry. Will answer to comments tomorrow morning. I am NOT functioning the proper way right now, if it wasn't already clear.)
feeling:
ecstatic
on rotation: NOTHING, THIS IS TOO AWESOME FOR SOUND.