Ok, I haven't been sleeping six hours straight for a week and I have my last exam on the 6th, but nonetheless, I had to go to see her. At least one good thing, and shit, I hadn't been to a concert in a whole year, I kind of needed a break ;) So...
First of all, it has been
amazing
, just... just... I had been to another one two years ago and it was
great
, but this one... if only the venue was smaller and I could have been where I was the time before, just under the stage, it would have been perfect, but alas... let's go on the review.
So, I arrive at the auditorium; usually it's a place for classical music but they also invite rock artists and on summer they have this open square where they host concerts; there is a part under, in front of the stage, and one upstairs. I was upstairs but my position there was great, as I was just in front of the stage and I could take some decent pics, for once. I had been there for a quarter of hour when she starts. And I'll say that I really can't recall the setlist exactly (which means that she had completely blown me) but I'll try now. They started with
Redondo beach
which happened also at the concert before, then went on with
Summer cannibals
which is one of my absolute favourites; and
hell
, if she has more voice now than ever. She's just.. blowing. After that one, she went on with
Changing of the guards
, and I mean, Patti singing Bob Dylan? *______* then she took out her clarinet and.... god. I'm not too keen on Jimi Hendrix and maybe someone is going to kill me for this, but...
Are you experienced
made in Pattiland is... just.... perfection. They had an amazing jam before it and god if they are good. I mean, with the exception of her son they are all from the Patti Smith Group of the glorious times and HELL IF THEY DON'T KNOW HOW TO ROCK SOMEPLACE. Lenny Kaye is an idol. Really, he is. That said, in the next part they did
Pissing in a river
(*_____________* DAMN RADIO ETHIOPIA STUFF XQ___),
Ghost dance
(and there I was kind of starting to cry because that probably is one of my favourites
ever
and she didn't do it the time before, gosh I so love it),
Within you without you
,
We three
and
Beneath the southern cross
(that woman playing acoustic with Lenny in front is just... I love those two when they are like that XD) also if the order could be different, I really can't recall now; and then she started talking. It was kind of a weird story about Raphael, some slippers, three whales, pizza and a rabbit, but that wasn't the matter, because the next was the
White rabbit
cover and I just wanted to die on the spot because not only I love that song but she does it wonderfully and damn I just wished I had found a bigger memory for the camera because I could shoot only half of it... But, but, but, here comes the fun part. White Rabbit ends and woooow, here comes
Because the night
and the thing I was fearing happened. People started to get up and go under the stage (which had too much space between the group and the people but anyway...) and I was like 'shit I knew I had to get the place there', then two people next to me stood up to try to get down, I didn't think a second more, I stood up too, went with them and also if the guard there didn't want to let us pass we passed and voilà, here I am in the second row under the stage XDDDD and really, it was amazing. I was screaming like never before, it just felt so good ** and here comes the best part of the setlist. Because I knew that yesterday was the anniversary of Jim Morrison's death and I was
sure
that she was going to play
Soul Kitchen
and she played it. Moment in which I could have died a happy woman. I mean, my favourite woman singer sings one of my favourite songs of my second-time-favourite group. Could you wish for more, considering that I was also on Lenny Kaye's side of the stage which was exactly my target?
You could, because after that one she played
Smells like teen spirit
and we just went nuts. I was screaming like never before and I love her cover anyway (and in the meantime, I was calling
_izu_
because I knew she was going to love it and I was also trying to take some pics), then I just can't remember if she played something else because I was completely blown away but the next was
Gloria
and goddamn I didn't think I had so much voice left there XD
Anyway, Gloria had to be the last, but of course they came out for the encore. And she sings Lou Reed's
Perfect day
and we were all melting down there, then she knew it and placed the final blows.
Gimme shelter
was just... I remember clearly thinking 'The Stones are here in three days and I can't go? Fuck the stones, she probably sings it better than Jagger currently does' XD, but... after that,
Rock n' Roll nigger
was played and no, we didn't go nuts before, we went nuts there. God first of all I'll say again that Lenny Kaye -> LOVE, and I lost the last bit of my voice. I expected them to be awesome but it was beyond awesome and in the end I felt drenched but well, if I hadn't been alone it would have been hands down the best concert of my life. i looovee her XD
And now, some goodies! XD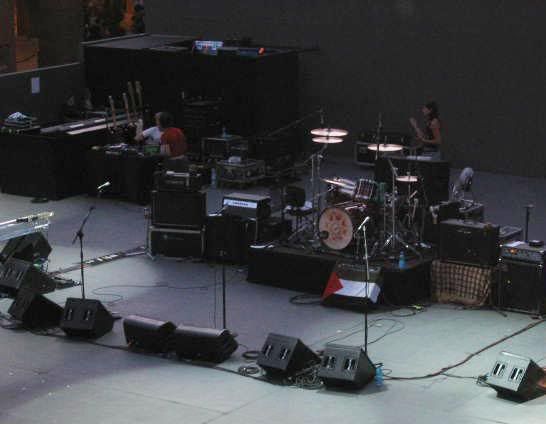 The stage XD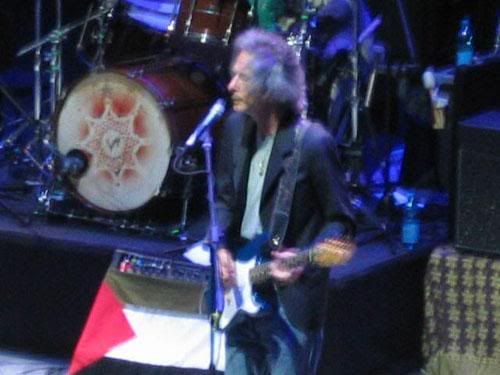 Poor attempt of taking a pic of mr. Kaye with a good deal of zooming.
I think this was during Pissing in a river but I could be wrong..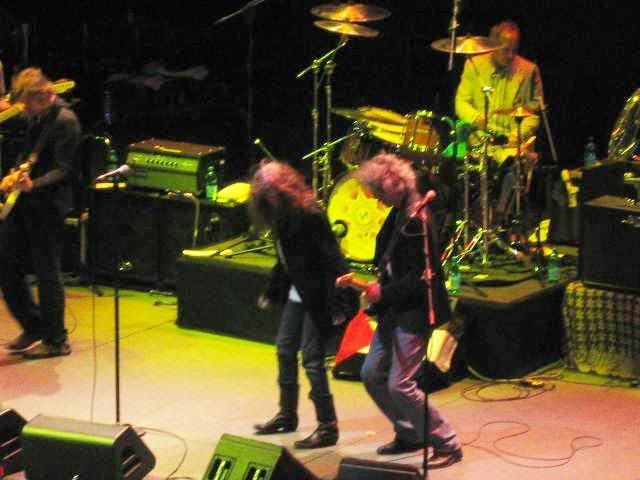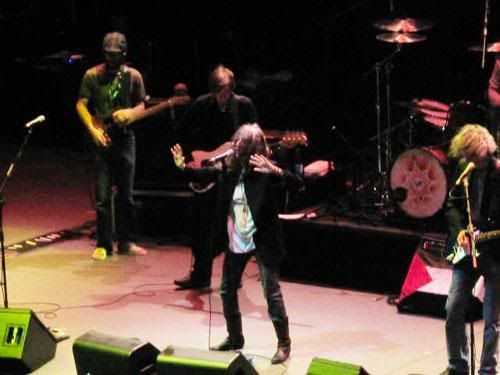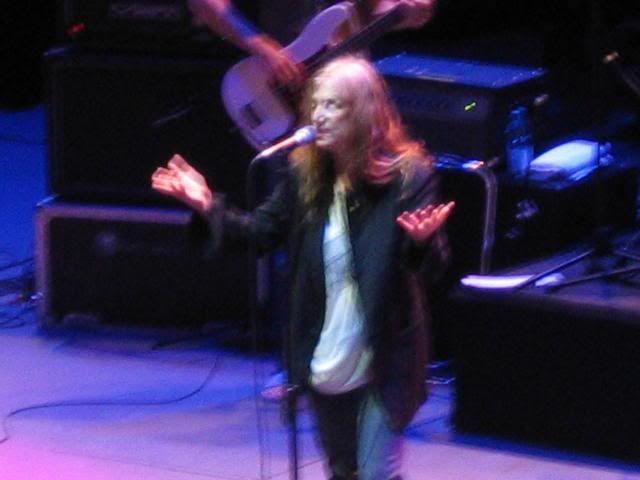 Kinda awful but the best I managed to get from up there..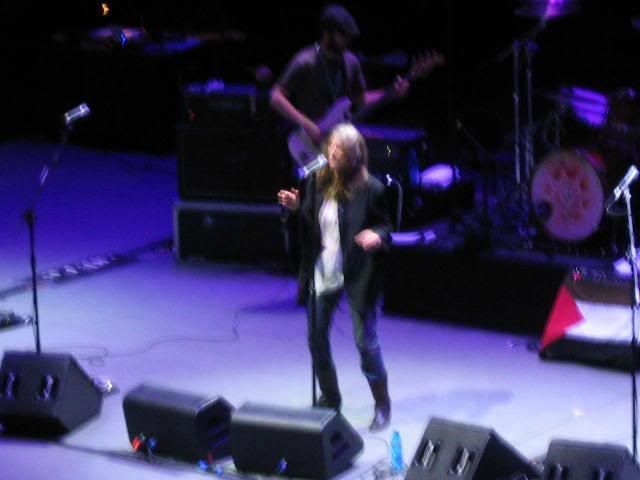 This was during
Beneath the southern cross
. First, she's great with the acoustic. And she and Lenny have such chemistry in playing it's just a pleasure to look at them **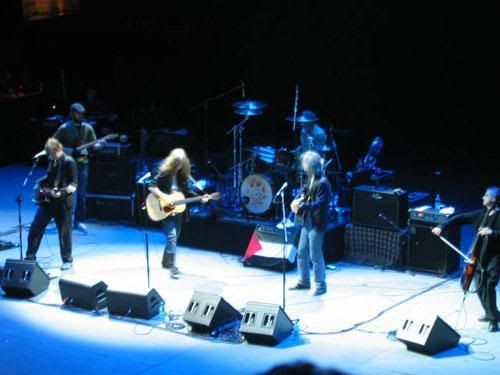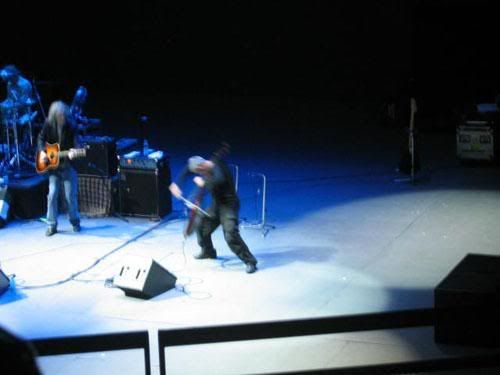 This is kinda blurry but you can't imagine what was this guy doing. He was almost jumping around his instrument, just crazy XD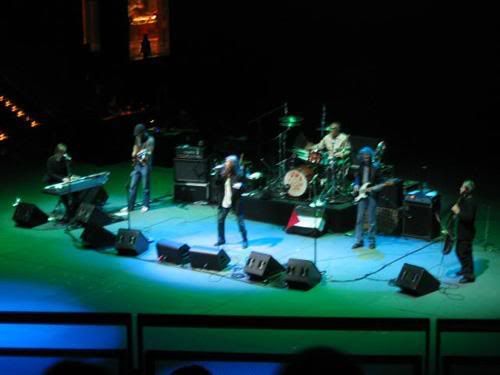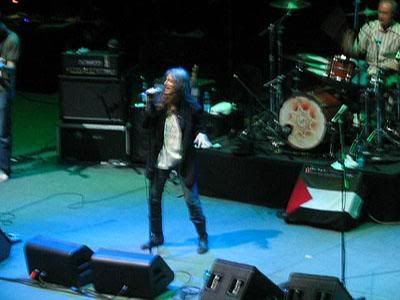 And now, the ones I took when I was down XD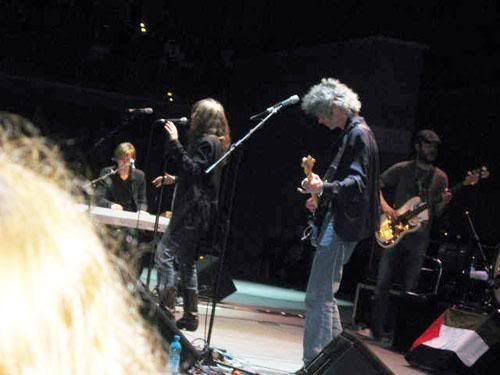 Yeah the girl in front of me was very blonde.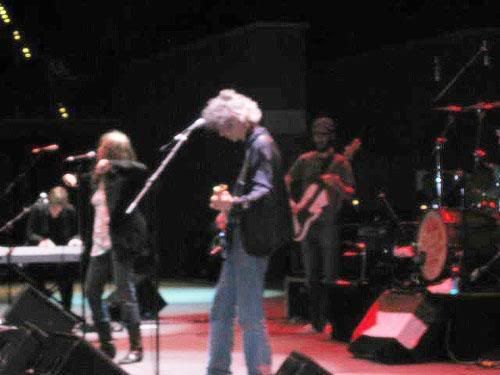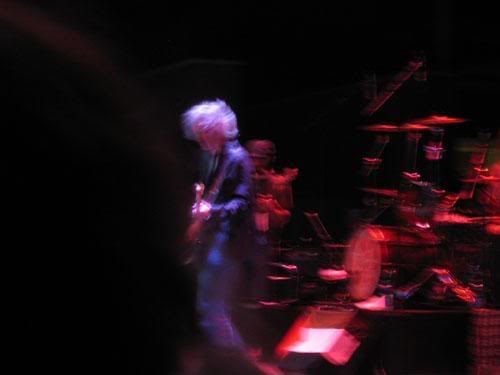 No shit, I'm not lucky when I try to shoot the guy.
And this one was made during
Rock n' Roll nigger
, probably the only decent one I got of the whole bunch XD
And this is my poor excuse of video for
White rabbit
XD
Ending it, she's awesome and my favourite singer ever and I love her XD
feeling:
rejuvenated
on rotation: 25th floor - patti smith